Vertical Indoor Gardens that thrive on walls.
YPS Botanicals creates stunning living murals with Living Wall Indoor, greenwall systems, which provide healthy growing environment for plants on virtually any interior wall surface.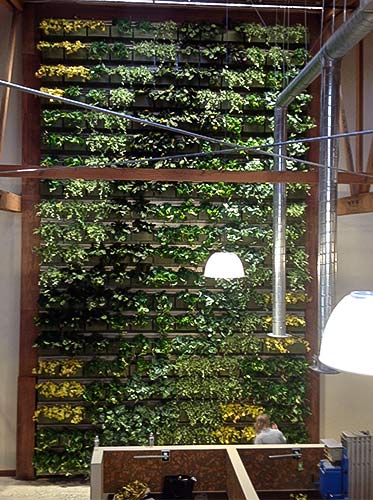 Indoor living walls purify and humidify the air, reducing volatile organic compounds (VOCs) creating a healthier environment for building residents, customers and employees.
LEED® Credits
Many Living Wall systems contribute energy credits in each of the five certification categories of LEED® .
YPS Botanicals installs and maintains Living Walls aka 'Green Walls, or GreenWalls' throughout Los Angeles area.
Living Walls – Lush Vertical-Gardens
Is your commercial building located in the greater Los Angeles area?
Add a 'Greenwall' aka, Living Wall, lush indoor vertical garden to your commercial building.
Contact YPS Botanicals today at:
1-310-665-0048,
YPS Botanicals designs and maintains Living Walls. We use various vertical-wall-planters and living-wall-systems depending on the needs of your particular project.
Please see our
VersaWall Living Walls
page, and our
Simply Vertical Planter
Living Walls, Gallery page, for examples of other living wall systems.