How We Help You…
For over 30 years YPS Botanicals – "Your Plant Service",  has been helping businesses save money, look better, and function better through the creative use and placement of interior plants.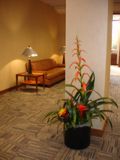 Our innovative plantscape designs, using the best quality interior plants can help your business go green. At the same time we beautify and improve the overall functionality of your office space.
Whether you're in the development phase of a new building or you're ready to improve the air quality and health benefits of your existing building, you need interior plants.
Far beyond providing a pleasant visual experience, trusted research has shown that indoor plants can enhance wellness, elevate our moods and improve creativity and productivity.
Let our trained professionals at "Your Plant Service"  help you bring beauty with benefits to your workspace.
Call today: (310) 665-0048 for a no obligation consultation. Email us: sales@ypsbotanicals.com or use our contact form
---